Discover more from Infernal Access
Your home for in-depth coverage of the New Jersey Devils.
Over 1,000 subscribers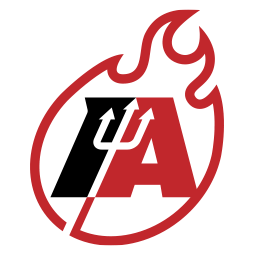 Today's guest post was written by C.J. Turturo. You can find him on Twitter @CJTDevil.
---
There have been a few different things said by both scouts, and New Jersey Devils management that have, to some degree or another, anointed Jack Hughes as an immovable member of the team's core and a likely future superstar.
When Tom Fitzgerald took over, he immediately listed Hughes alongside Nico Hischier as pillars of the rebuild (notably leaving Jesper Bratt, the most efficient 5v5 scorer on the team, absent).
Hughes was the #1 overall draft pick, and, as a playmaking center, is every bit the prototype of a modern NHL stud. That's why Corey Pronman still has Hughes as his 8th ranked U23 player -- above guys like Charlie McAvoy who's already been a top pairing defender for 3 seasons; Pierre-Luc DuBois who averaged a point per game while dragging the Columbus offense through 10 postseason appearances; and even his teammate Nico Hischier, who has been an efficient top line center for three seasons already. Here's the problem with this sky-high assessment of Jack Hughes…
He was awful last season.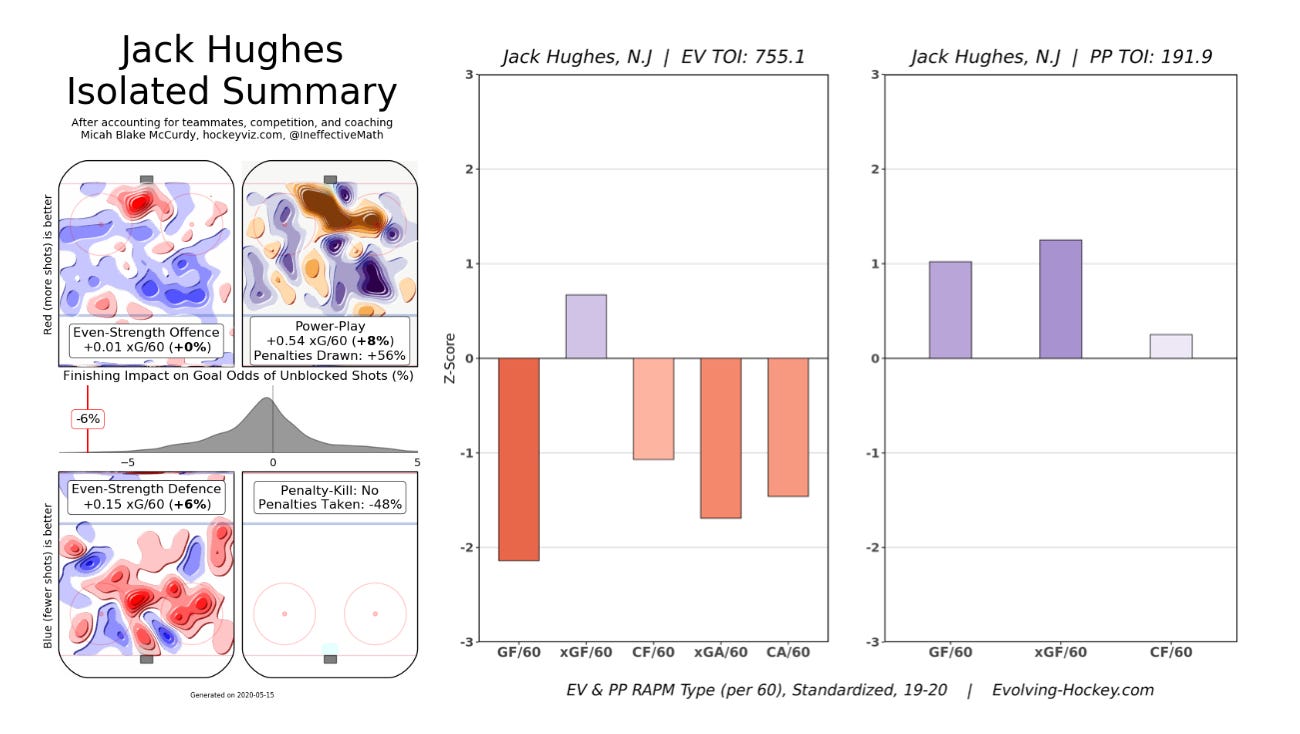 Hughes was, unsurprisingly for a young undersized center, a defensive liability -- his shot and expected goal impacts were about 1.5 standard deviations below the average, which puts him around the 7th percentile of all players. What should have saved his rooke season was offense. But the mediocre shot and danger impact is totally drowned out by his insanely inefficient shooting which put him 2 SDs below average (2nd percentile) in offensive goal impact. Some of that will likely regress upward this season due to shear luck, but it's fair to wonder how much.
According to Moneypuck, Jack's estimated shooting talent is 25.6% below average. That is bottom-10 in the NHL among forwards with 500+ minutes.
We can say all the flowery things we want about his raw skillset, and his potential, but if we're giving an honest one-sentence description of Jack's 2020 season, it would look something like this: "Jack Hughes was a defensive liability and valuable PP specialist whose modest 5v5 offensive impacts were cratered by virtue of being one of the worst shooters in the league." Does this sound like a future superstar to you?
It's also important to note that my critique of pundits and management around the assumption of Hughes's greatness is not, itself, a condemnation of Hughes. This is an 18-year-old kid making the jump from the USDP straight to the NHL. It can take some time to figure out the game at the NHL level and I, by no means, want to express skepticism that Jack can ultimately become a highly productive NHLer, or even a star.
My gripe is with the assumption that he will do so given what data we currently have. Are we really going to completely ignore almost a full season of data just because it doesn't fit out preconceptions? Nico made a similarly difficult leap from QMJHL to the NHL, and (unlike Jack) he had to take on 1C responsibilities immediately. He was only an inch taller, 5lbs heavier, and four months older – he was far more productive.
On what evidence are we basing the opinion that Hughes is likely to be as good as Hischier moving forward? According to Evolving-Hockey, there have been 60 different 18-year-old forwards to play in the NHL in the analytics era. Jack Hughes's GAR ranks 58th.
Do I think Jack Hughes is the 58th best 18-year-old to play in that time? No. I think his skills are pretty apparent and most people rightly expect upward regression in his sophomore season. But we should have moved the expectation at least a little since he was drafted, no? Can we really say that his projection is the same despite an entire season of data to the contrary and no NHL data to the affirmative?
Alas, Fitzy used his first pick in 2020 on a scoring winger because he thinks he already has a 1C and 2C decided for the foreseeable future; and scouts like Pronman still project Hughes as one of the top 10 U23 NHLers.
I've tried to make it clear that I think Jack Hughes will improve and, listen, I HOPE that someone sends this article to @OldTakesExposed and I get called out after Jack's 2025 Hart Trophy campaign. And while there's a chance that happens, there's a bigger chance it doesn't. If we assume it will, our franchise will have pigeonholed our long-term plan for success and leashed our title hopes to a dog that won't mush.
So, while it's definitely too early to give up on Hughes, we have to acknowledge that there needs to be a plan B.
Note: if you want to read something a little more positive from CJ, be sure to check out his post on why it is time to unlock Jesper Bratt.