Discover more from Infernal Access
Your home for in-depth coverage of the New Jersey Devils.
Over 1,000 subscribers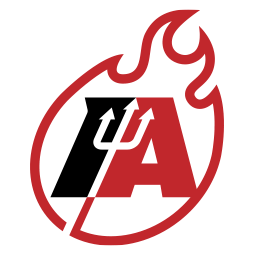 Today's guest post was written by C.J. Turturo. You can find him on Twitter @CJTDevil.
As has been reported by Todd and others, Tom Fitzgerald plans on building around this team's young core.
In the past I've been critical of Fitzgerald for failing to include Jesper Bratt as part of that group -- once including Hischier, Hughes, Blackwood, and even Boqvist without mentioning Bratt -- but since then he's said that Bratt is "very important to the success we're going to have" and "we'll get it done" with regards to his contract.
It's one thing to say that, it's another thing for the GM to prove it (give him a long-term deal) and yet another for the coaching staff to act on it (give him more than 14 minutes a game).
Todd has also talked multiple times (one, two) about moving on from Kyle Palmieri -- a defensively responsible winger and highly effective shooter.
This suggestion becomes even more palatable once you realize we have his heir apparent on the roster already. And that's why, it's time to unlock Jesper Bratt.
Jesper Bratt is an elite shooter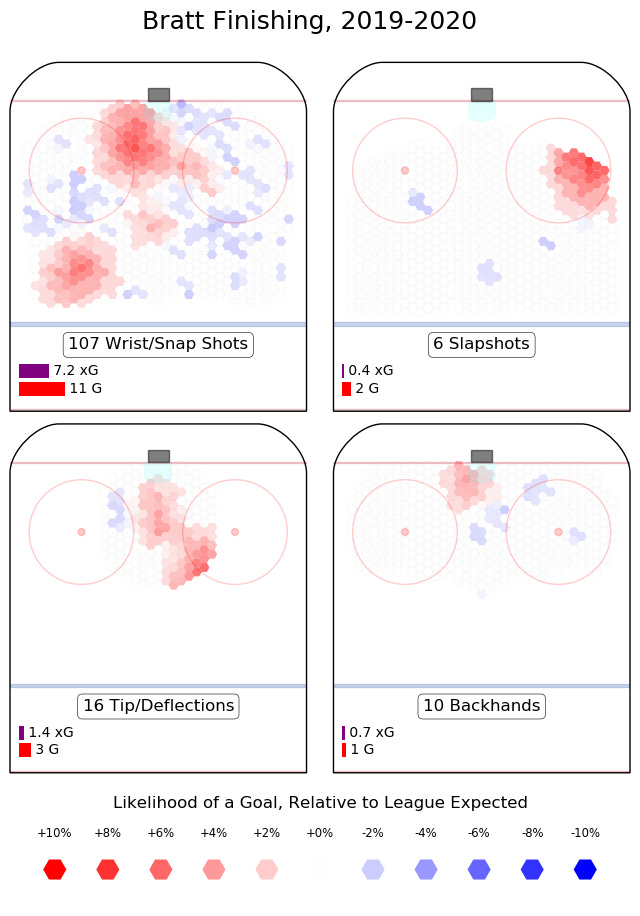 The map above shows Bratt's performance vs. league average in shooting from each area of the ice via Hockeyviz's chart above. Notice all the red? Notice how the Gs are higher than the xGs for every type of shot? That's because he's an extremely efficient and well-rounded shooter.
According to Moneypuck, he is 24.6% better than the average shooter -- that's 14th in the NHL, right between Auston Matthews and Alex Ovechkin. Ovechkin attempted 602 shots (1st in NHL). Auston Matthews attempted 504 (7th). Bratt? … 155 (362nd).
According to Evolving-Hockey, his shooting talent alone was worth 4.4 goals -- good for 30th among all skaters despite his low attempt totals.
Jesper Bratt is a keg of shooting value that is simply not getting tapped. And yes, part of this is Bratt's fault. Of the 18 Devils skaters with 500+ minutes this year, Bratt was 11th at shots per 60, just ahead of #12, Kevin Rooney. In no world, is that acceptable.
Part of it also falls on the coaching. Despite improving his GAR from -3.8 to +2.8 to +9.6 over his career, his time on ice decreased every season before landing at a middling third line-level 13:59 in 2020.
Some coaching decisions are hard. Others are not. PLAY THE MAN.
Massively improved defensive game

Jesper Bratt has improved his defensive performance to a borderline insane degree over his short time in the NHL. The chart above from Hockeyviz shows a near universal turnaround from his rookie season.
Opposing teams are now struggling mightily to generate shots against Bratt in the slot, and in tight, after walking all over the teenager in 2018.
Via Evolving-Hockey, his even-strength xGAR defensive value has improved from -2.3 in 2018, to -1.9 in 2019, and skyrocketed to +2.3 in 2020. That was better than every Devils forward other than Selke-worthy winger Blake Coleman. 
His defensive performance was not a product of any one area of fluky expertise, but rather a near complete suppression of danger when on the ice.
When adjusted for score and venue, the Devils saw fewer shots, unblocked shots, shots on goal, scoring chances, high danger chances, and, of course, expected goals against with Bratt on the ice versus when he was off.
In particular, his xGA/60 Rel was -0.33, which was 2nd best on the team among skaters with 200+minutes; behind only defensive-specialist Kevin Rooney, for whom Bratt was sat due to defensive underachievement early in the year.
Bratt has completely revamped his 200-foot game and it's time for coaches to recognize. PLAY THE MAN.
Bratt can move the puck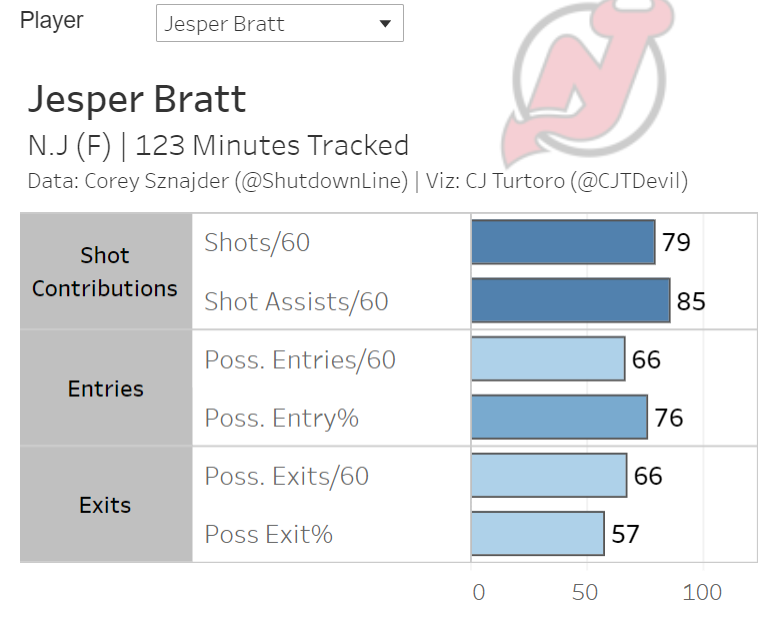 This one was originally an eye test thing for me, but it's born out in the stats. My viz of Corey Sznajder's tracking project shows that Bratt (in tracked games) was substantially above average in exiting the zone, entering the zone, and generating offense once in the OZ.
Subjectively, Bratt is one of the few players on the team who I felt was always making smart decisions in transition.
On the puck, he was creative with the space. I call players that do what he does salmon because it always seems like their moving upstream of the momentum of all the other players. He'll change direction and gain some separation from the defenders better than almost anyone on the team except for, maybe, Gusev.
We've seen entire revolutions of the game built around simulating this innate ability -- the double-line drop pass zone-entry on the PP is an example of using defenders' pace against them.
Bratt does this all by himself and the on-ice results bear out the impact of it. What should coaches do when they have a player that is effective in all three zones?
Scroll up if you haven't determined the pattern by now. 
PLAY.
THE.
MAN.
Thinking about giving Infernal Access a shot? Join now and get 26% off all subscriptions up to a year!