New Jersey Devils Q&A – 09/01/20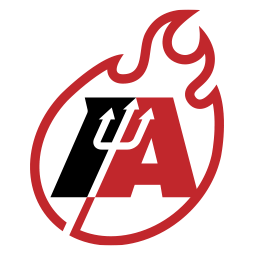 Follow me on Twitter @ToddCordell | @InfernalAccess
Be sure to join the Discord channel to talk hockey, and everything else, with me and fellow subscribers.
You all know the drill by now. Every week you flood me with quality questions, and every week I do my best to answer them.
Let's dive right in.
Q: Can you break down why you prefer Ehlers over Laine if they both become available?
There are plenty of reasons so I'm going to keep them short and sweet:
Laine is a massive defensive liability.

Ehlers is an elite play driver, and transition player, while Laine offers next to nothing in those areas.

Ehlers (2.27 points/60) has been a significantly more efficient point producer than Laine (1.79 points/60) at 5v5 over the last three years.

Laine has produced more raw points in three consecutive seasons, and is the more natural goal scorer. That might give him more perceived value.

Ehlers is signed long-term at $6 million. Laine's salary in 2021-22 will likely start with an eight.
Q: I'd like hear about your opinion of a trade package for Ehlers.
I love Ehlers as a player (see above) and think the Devils, like any team, should be all over him if he really is made available.
The problem is Winnipeg will be looking for a quality center and/or a quality defenseman, and the Devils don't really have any to give.
They're not parting with Nico Hischier or Jack Hughes, obviously, which means the Jets aren't getting a top-6 center in any trade with the Devils.
On defense, the Devils are shallow themselves. Will Butcher is their only good left defender and, based on the year he had, it would take a lot on top to get Ehlers.
If P.K. Subban is the guy we saw in 2019-20, Damon Severson is the Devils' only good right defender. That would get the conversation started but, again, it would take more on top.
So, the Devils don't have any centers to give and, as of now, have one good defenseman on each side. They just don't seem like the best trade match.
Q: What is your opinion of Miles Wood? Does he get back to his style that made him successful a couple seasons ago?
Honestly, I think Miles Wood is the same player as he was in 2017-18. He actually generated high-danger chances this past season than he did when he netted 16 goals (at 5v5). He was more engaged physically, too, landing ~2.5 more hits per 60 minutes.
The difference, by and large, is he scored on 10.06% of his 5v5 shots during the breakout year and has otherwise never finished even 7%. He just hasn't had the same kind of shooting luck – not surprising considering he is far from a natural finisher – and that's led a lot of people to believe he's a shell of himself.
In reality, if he scored on 10.06% of his shots again, we'd be talking about a guy with 15 or 16 goals through 68 games.
Q: After a poor playoff performances, and the rumors about wanting out, do you think the Devils kick the tires on Max Domi?
Generally speaking, I quite like the idea of trading for Domi. He produced 28 fewer points than a season ago and didn't score a goal in the playoffs so you'd be getting him at a low point. I think that's the best time to pounce on players, especially when the drop in production isn't out of decline (Domi turned 25 a few months ago).
I do have a couple concerns, though. He is very much a one-way player (the Devils already have some guys who need to be protected) so Lindy Ruff would have to find a way to shelter him without exposing somebody else.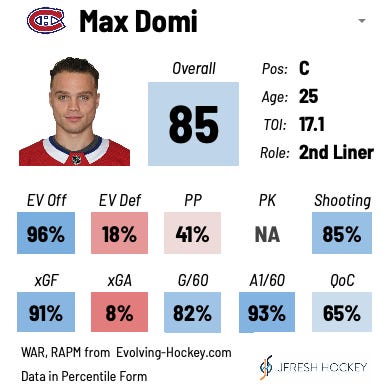 Domi is also best suited to play center – he is very good in transition and you want him touching the puck a lot – and that's the Devils' deepest position. Even more so if they can get their hands on Marco Rossi at 7.
Q: Thoughts on Jacob Perreault at 18 or 20?
Perreault has some his holes in his game defensively, and away from the puck, but I'd have no problem taking a chance on him in that range.
Jack Quinn was the only draft eligible OHLer to score more goals. Only Quinton Byfield, Marco Rossi, and Cole Perfetti bested him in terms of estimated points per 60.
Perreault is a sharpshooter with excellent puck skills and good skating ability. I don't think the Devils have many wingers like him – on the roster or in the system – and he's the kind of high upside pick I generally like to chase.
Q: Who is the most underestimated free agent Devils should go for?
My off the grid pick, so to speak, would be Justin Braun. He will give you absolutely nothing offensively or in transition. Nothing. But he is a rock solid in-zone defender and he knows how to successfully play within his limitations.
As C.J. Turturo pointed out in his last guest post, Braun is the exact style of player Will Butcher meshes well with.
I think Braun would be affordable and he wouldn't command much term. Braun could help bring the most out of Butcher, which would go a long way towards making the Devils' defense respectable again.
Q: How many starts should we be giving Mackenzie Blackwood next season? If that number is over 50, do you think that will make it tougher to sign a high-end backup like Thomas Greiss or Cam Talbot?
Approximately 50 sounds right if the Devils actually have a competent backup they can rely on.
I don't think Talbot or Greiss would be completely turned off by that. There are plenty of good goaltenders on the market this off-season and not many starting jobs. They'll have to take what they can get – especially if the team actually has the cap to pay them well – and hope their play earns more opportunity.
Talbot started 35 games a year ago. This season he started 26. Greiss started 31 this season and played 27 in 2017-18. Both guys have experience, and enjoyed success, playing as the 1B.
If they get paid well, I'm sure they can be convinced to continue playing that role.
Q: The team seems higher on Bahl than some Devils commentators. Hoping he can a solid 4-5 dman and dominate on PK. What are your thoughts?
I'm not high on Bahl. I think he is destined to be a 3rd pairing defender, if he makes it at all as a full-timer. While he has some tools, he tends to be too much of an 'off the glass and out' kind of guy for my liking. My guess is his defensive impact will be middling and he'll neuter the offense of New Jersey's skilled forwards whenever he's out there. I'd love to be wrong but I think he'd hold more value as a trade chip now than he will ever bring to the team on a nightly basis.
numbers via NaturalStatTrick.com and Pick224.com
The 17% off launch special runs until midnight. If you have interest in subscribing to Infernal Access, and haven't pulled the trigger, now is the time to join!